Decorative Concrete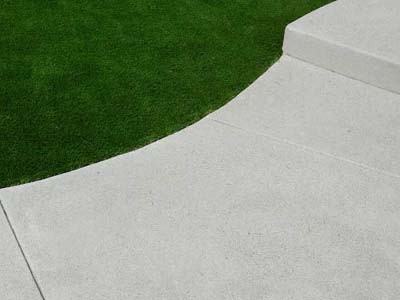 When it comes to concrete work in the landscaping industry, 'decorative concrete' has been a popular form of hardscaping for many decades now. Some of the more popular techniques include stamped concrete, stenciled, stained and colored concrete methods. You would normally see this type of concrete installed around pools, patios, driveways and walkways. It is a cost effective way of adding function and appeal to any outdoor space!

Concrete is a widely-used material in landscaping projects. It's strong and hardy and very durable too. However many people still feel that it looks dull and drab and too grey to use it just the way is, in their landscapes. While this might have been the case up until a few years ago, this material has evolved in a significant way, in recent times and decorative concrete is being used in a big way on various properties.

San Diego Landscape Solutions Inc. is a company that caters to residential and commercial customers in and around San Diego, Chula Vista, National City, and Spring Valley. They also have a number of long-standing clients in Bonita, Barrett Junction, El Cajon, Coronado, Imperial Beach, as well as Lakeside. The range of Decorative Concrete solutions they provide are:


Stamped Concrete
It's a fact that concrete in its basic form, isn't a very attractive material and the surfaces made of concrete do tend to look dull and drab. However, its possible to change this appearance by stamping the surface with various designs. This technique is used for installations such as walkways, pathways, driveways etc.

Stamped concrete can be made to look like stone, brick, cobbles, slate, or even any natural stone. The installation will then be stained with colors of your choice and you will get stunning outdoor spaces that are resilient and durable too.


Stenciled Concrete
If you want a very unique look in your garden and yard, you can choose to get stenciled concrete. This too can be stained in various colors and you can get any designs stenciled on these installations. The look it creates on your property will be unique and stunning. You will find there are a large number of stencils to choose from, and lining work can be done to lend the installation some added form and dimension.


Colored Concrete
Concrete doesn't have to be dull and drab; it is now available in a variety of colors, and you can also choose to get it stained in multiple colors. The company that handles the job will also help create the kind of look you want on your property. They will ensure that the concrete staining is done in an even manner and concrete coatings, stains and dyes could be used to create the right effect. You can choose browns and beiges or even eclectic colors like vibrant purples or red hues.


Stained Concrete
Staining is a technique used to color concrete floors. There are a number of acid-based or chemical stains that can be used to achieve color variations in the concrete floor installations. These stains aren't surface level. They actually penetrate the material and the chemical reaction that takes place, creates various color effects. At times polymer or water-based stains may be used to color the floor installations permanently. You will find basic colors and a number of metallic tints too.

If you want outdoor spaces that look stunning and turf that lasts long, you need to hire the services of a company like San Diego Landscape Solutions Inc. that will provide customized and high grade services, based on your specific requirements.


More Articles
Irrigation
Outdoor Lighting
Paver Installations
Retaining Walls
Synthetic Grass
We Provide Services to the Following Cities and Towns in CA: