Outdoor Lighting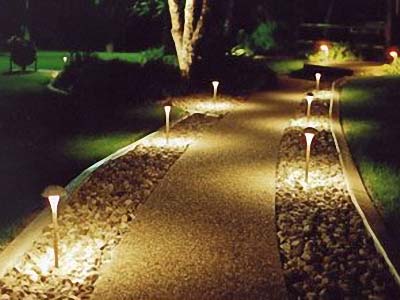 The addition of outdoor lighting fixtures to your residential or commercial property will really add so many advantages it may surprise you. First of all it will light up your property at night time and really give it some beautiful ambiance. But you will also be gaining some extra security and safety for your home or place of business!


Outdoor Lighting
Most property owners take a great deal of care to get their landscapes designed and installed in the best possible way. They add various softscaping and hardscaping features that add to the beauty of these spaces. However the one way to enjoy sitting in your yard or garden or even entertaining friends there, is to ensure you have the right kind of outdoor lighting fixtures.

San Diego Landscape Solutions Inc. is a company that caters to residential and commercial customers in and around San Diego, Chula Vista, National City, and Spring Valley. They also have a number of long-standing clients in Bonita, Barrett Junction, El Cajon, Coronado, Imperial Beach, as well as Lakeside. The ranges of outdoor lighting solutions they provide are:


Landscape Lighting
The one way to add to the functionality of your landscape even after dark is to ensure that you hire exterior lighting experts to provide the kind of solutions you need. Many people feel there is nothing specialized about this job and that all that's required are a few spotlights and floodlights to light up the garden, yard and exterior walls of their home. However, good lighting is much more than that.

It's about taking various outdoor elements and features into account and then lighting these in an artistic and creative manner. This helps enhance the aesthetics of the space and helps make these areas more usable after dark as well. The other major advantage of good garden lighting fixtures is that it adds to the security aspect of your property and acts as a deterrent to unsavory characters like burglars, trespassers and vandals etc.


Outdoor LED Lighting
When you have beautiful outdoor spaces, you also want to be able to use them after dark. It's why you add paver lights, lamp posts, garden lamps, floodlights spotlights, exterior wall lights, step lighting, entranceway and driveway lighting etc. While these fittings and fixtures definitely make your gardens and yards look stunning after dark, they all can be energy-guzzlers too. The one way to tackle this is to get energy-efficient LED outdoor bulbs fitted.


Low Voltage Lighting
When there is talk about getting outdoor lighting for a property, many people also wonder about the cost factor. The one way to keep this power expense under control is to opt for low voltage lighting such as LED bulbs. While the upfront cost of these is much higher compared to traditional bulbs, they outlast the latter by a number of decades.

In addition, they are 80% more energy-efficient too; this becomes a major benefit to you. In addition to these, the company will also use motion sensor lighting, low wattage lights, switches and relays, optional timers and dimmers, photocells etc. to help keep the energy use under control.

If you want outdoor spaces that look stunning and outdoor lighting that lasts long, you need to hire the services of a company like San Diego Landscape Solutions Inc. that will provide customized and high grade services, based on your specific requirements. This will ensure your property is lighted aesthetically and functionally and it increases the value of your property too.


More Articles
Decorative Concrete
Irrigation
Paver Installations
Retaining Walls
Synthetic Grass
We Provide Services to the Following Cities and Towns in CA: