Retaining Walls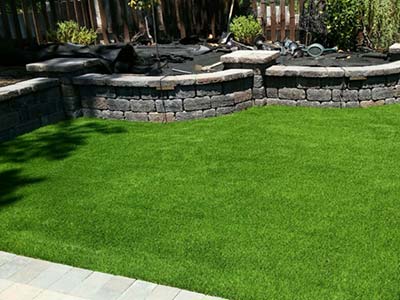 Many landscapes have sloping land and when you want to build any outdoor features like an outdoor kitchen or even a driveway, pathway or walkway, it becomes extremely challenging to build it. If the slope is too steep, you would have to excavate part of the slope and level the land, before you build anything on it. At this point, it also becomes important to provide the exposed soil, sufficient support. This is where retaining walls come into the picture.

San Diego Landscape Solutions Inc. is a company that caters to residential and commercial customers in and around San Diego, Chula Vista, National City, and Spring Valley. They also have a number of long-standing clients in Bonita, Barrett Junction, El Cajon, Coronado, Imperial Beach, as well as Lakeside. The range of retaining wall materials used in the projects are:


Retaining Wall Blocks
At times, the retaining walls structures are quite lengthy and it's important that these walls be engineered to perfection. Using retaining wall blocks is an excellent choice for structures such as these and the construction is easy and quick. This also makes the project more cost-effective. If you feel that the concrete looks too plain, you can clad the walls in brick/stone veneer. This lends the wall a very attractive appearance.


Concrete Blocks
When you are considering getting a retaining wall built, you want to be sure that it lasts for a very long time and provides the landscape the support it needs. Modular concrete blocks are an excellent material for building these walls and the surface can also be covered with natural stone or brick veneer. This adds to the aesthetics of the space and lends a very unique look to the landscaping.


Building A Retaining Wall
Retaining walls provide a certain amount of support to the landscape and helps prevent soil erosion too. However, it's important that these walls be built skillfully, using the right materials. Its why building a retaining wall is a specialist's job and they be able to build strong and study walls that look stunning and perform well.


Retaining Wall Design
You can choose from various retaining wall designs; if you like you can add in-built seating or have recessed lights and steps or planters set in the structure. This adds dual functionality to the wall. Regardless of the design you choose, it's important to get expert wall installers to handle the construction work. A good company will also ensure that the best materials are used in the work.


Block Wall
Walls made of concrete blocks are extremely strong and they are easy to build. It's important to have backfill for proper drainage. If you want to build multi-level walls, that too is possible with the use of these blocks. Experienced and skilled stone masons will tackle the job and ensure you get retaining walls that are sturdy and long-lasting.

If you want retaining walls that look stunning and turf that lasts long, you need to hire the services of a company like San Diego Landscape Solutions Inc. that will provide customized and high grade services, based on your specific requirements.


More Articles
Decorative Concrete
Irrigation
Outdoor Lighting
Paver Installations
Synthetic Grass
We Provide Services to the Following Cities and Towns in CA: