Paver Installations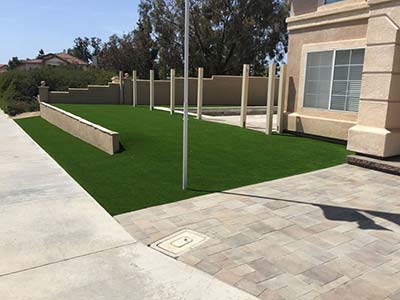 Pavers can be used for so many outdoor applications including patios, driveways, walkways, sidewalks and pool decks. They are very durable and will definitely add to the aesthetic appeal of your property. Having them installed by professionals is a really good idea for you will know that the site has been prepared correctly and that you will have a beautiful pavement for many years to come!

Outdoor spaces like gardens and yards are constantly exposed to the elements. It's why a good landscape company will always recommend using materials that look good, but are functional, strong and long-lasting too. With this in view, paver installations are an excellent choice and these are suitable for most outdoor spaces such as pathways, driveways, walkways, patios and decks etc.

San Diego Landscape Solutions Inc. is a company that caters to residential and commercial customers in and around San Diego, Chula Vista, National City, and Spring Valley. They also have a number of long-standing clients in Bonita, Barrett Junction, El Cajon, Coronado, Imperial Beach, as well as Lakeside. The range of paver installation solutions they provide are:


Installing Pavers
Pavers are essentially individual units that have to be set together on compacted sand, in the given space. While the job is considerably easy and quick, only experienced and skilled installers would be able to handle this job in an expert manner. It's important that the units be set properly together and that the right kind of edging be provided, to hold these in place.


How to Install Pavers
The paver installation job is considerably easy which makes the project cost-effective too. However, only skilled paver installers are able to ensure that the job is done in a meticulous manner. The edges of the pavers have to match perfectly. If interlocking pavers or ones of different sizes are being set, care has to be taken to ensure that the design and integrity of the installation is maintained.


Installing Patio Pavers
When patio pavers are being installed, care has to be taken to ensure that every single paving stone is fitted very properly and that the edging is built along the periphery. This holds the installation in place and lends it a neat and defined look. You can choose from natural stone, brick or stone pavers and can get these sanded and sealed. This helps protect the surface from wear and tear and prevents the build-up of moss, mildew and oil stains etc.


Installing Brick Pavers
Brick is a very popular paving material; it has a very attractive look, is available in a range of colors, is strong and durable and complements the look of various settings. This makes it perfect for use in residential and commercial spaces. While the material is inherently strong, it's important that the installation be done with care and that good quality materials and workmanship be used in the project. This adds to the longevity of the installation.


Paver Installers
When you are choosing paver installers, you should make sure they are experienced and that they have a good reputation. A good and well-established company will always provide guarantees for its work and this means you can be assured they will do a good job the first time around. You should also check whether they provide a reasonable quote for the job and a proper timeline for the work.

If you want outdoor spaces that look stunning and paver installations that last long, you need to hire the services of a company like San Diego Landscape Solutions Inc. that will provide customized and high grade services, based on your specific requirements.


More Articles
Decorative Concrete
Irrigation
Outdoor Lighting
Retaining Walls
Synthetic Grass
We Provide Services to the Following Cities and Towns in CA: