Paver Installation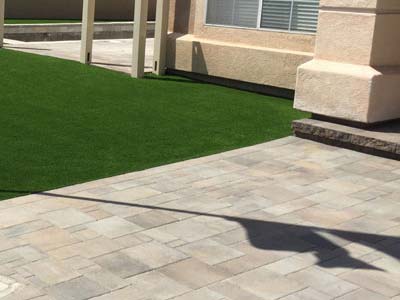 The outdoor spaces on your property see a great deal of wear and tear and it's important to use materials that are strong and hardy. With this in view we at San Diego Landscape Solutions Inc. generally recommend to our customers in National City, La Mesa, Bonita, Imperial Beach and Coronado, that they should opt for paver installations.

Pavers are extremely versatile installations and we at San Diego Landscape Solutions Inc. have successfully completed a significant number of paver installation projects for customers across San Diego, Lemon Grove, La Presa, Tijuana as well as Spring Valley too.


Benefits of Pavers
This is a very popular material and there are a number of benefits to using it, such as:


Its versatile and can be used in a number of settings including driveways, pathways, outdoor kitchens, patios, porches, entranceways etc.
Its strong and hardy and with the right kind of maintenance, can easily last for a number of years
You can choose from brick, concrete or natural stone pavers for the kind of effect you want
Available in a variety of colors, designs, sizes and shapes
Easy and quick installation
Low maintenance
Easy repair

While paver stones are the ideal material for outdoor spaces, it's important to ensure you hire an experienced and reputed contractor for the job. We are a leading company in this space and focus on providing our customers with solutions that fit into their requirement and budget.


Paving Installation – The Process
It's crucial that the paver installation be handled with care; no matter how strong the material, if this isn't done well, it can impact the integrity of the installation and cause the units to loosen or break. We follow a very detailed process in this work:


The site will be cleared of grass, masonry and plants
The soil will then be compacted- this helps it bear vehicular traffic in a much better way
A specialized geo-textile fabric will be set on this compacted soil
A layer of gravel will be spread on the textile
The pavers will be set on this
Edge restraints will be positioned – these help keep the paving stones in place
The pavers will then be sealed for added protection
High Quality Paving Stone Installation
This methodical approach ensures that the installation lasts for a very long time. Our on-site supervisors ensure that the job is completed efficiently and within the stipulated time frame. We never cut corners in our work and always focus on ensuring that we exceed your expectations on all fronts. We use the best materials in our work and keep our paver installation cost low. Our objective is to provide you value for money in every project we handle for you.

For any more information, call San Diego Landscape Solutions Inc. at this number: 619-734-7364. You can also send us your project details via the free estimate form on our site or use this contact us form to send us your queries. We will revert within the shortest possible time.

We Provide Services to the Following Cities and Towns in CA: