Landscape & Hardscape Services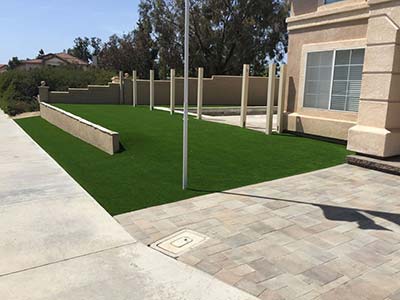 San Diego Landscape Solutions Inc. is a company that has been providing high quality services to customers in and around Lakeside, Chula Vista, Bonita, Imperial Beach and Coronado. We also have a large number of customers in San Diego, Barrett Junction, El Cajon as well as Spring Valley. We provide some very specialized services such as:


Artificial Grass
Most people like to have lawns on their properties, but maintenance becomes a major concern. The job is time-consuming and quite tedious as well. The best solution to this problem is to get artificial turf installed in your landscape. This looks stunning and very much like the real thing, but without any of the hassles related to real grass. The installation is quick and you are able to use the lawn immediately after installation. Read More About Artificial Grass >>


Paver Installation
Pavers are a great material for outdoor flooring. They can be used for driveways, pathways, outdoor kitchens, patios, porches, entranceways etc. They are available in a range of colors, designs, sizes and shapes. You can choose from brick, concrete or natural stone pavers to create the look you want on your property. Paving stone are durable, easy to maintain and very sturdy too and they add to the aesthetics of your property. Read More About Paver Installations >>


Concrete Work
Concrete is an essential part of any landscaping project. It's used in the construction of retaining walls, garden walls, boundary walls, fireplaces, outdoor kitchens, fire pits, patios etc. We design and install stable, aesthetically appealing, low-maintenance and highly durable installations that add to the value of your landscaping. We use high grade concrete and use a range of finishes like stamping, etching and staining to create stunning effects on your property. Read More About Concrete Work >>


Low Voltage Lighting
While lighting is important in any landscape, most property owners worry about the cost of these installations as they can be a major burden on utility bills. Low Voltage Lighting is the perfect solution to this problem. We install LED bulbs, low voltage lights that operate on 12/24V, transformers, dimmers etc. Thicker wires are used for transformer connections, and all these things ensure that the lighting systems on your property are energy-efficient. Read More About Low Voltage Lighting >>


Retaining Walls
These are a very essential component in many landscaping projects. They could be made with materials such as CMUs, concrete interlocking blocks, bricks, natural stone and many other materials. We use high quality workmanship and ensure you get strong and resilient walls that will last for a very long time. These walls provide the landscaping the support it needs and they prevent soil erosion. Read More About Retaining Walls >>


Drip Irrigation
Here at San Diego Landscape Solutions Inc. we believe that one of the best types of irrigation systems for our region is a Drip Irrigation system. There are so many benefits associated with the installation of a drip irrigation system including saving you money on your water bills. The way that the drip system works it waters directly to the root of the plants and therefore reduces the amount of water used as well as the amount of weed growth. Read More About Drip Irrigation >>

Regardless of the services you need, we ensure that you get the highest grade solutions at the best possible pricing. We work very closely with you to turn your vision into a reality. Call San Diego Landscape Solutions Inc. at this number: 619-734-7364. You can also send us your project details via the free estimate form on our site or use this contact us form to send us your queries. We will revert within the shortest possible time.

We Provide Services to the Following Cities and Towns in CA: