Retaining Walls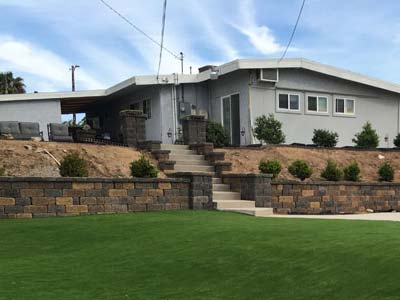 Every landscape is a mixture of various features, such as masonry elements, softscaping, decorative elements as well as water features etc. While some of these may be purely cosmetic in nature, most have cosmetic and functional value. Retaining walls are like that. These essential features are specially engineered walls that are built on land that is sloping or that is heavily graded.

At times it becomes necessary to excavate land to make space for features like a driveway, pathway, walkway etc. When any excavation work is carried out in a landscape, this leaves a significant portion of the soil exposed. Retaining walls provide the landscape the support it needs and prevents soil erosion. It's important that these features be built with high-grade materials using top-notch workmanship.


Materials Used In Outdoor Retaining Walls
We at San Diego Landscape Solutions Inc. provide excellent custom retaining wall solutions that match the needs of our clients across National City, La Mesa, Bonita, Imperial Beach and Coronado. We also have a large number of clients in and around San Diego, Lemon Grove, La Presa, Tijuana as well as Spring Valley. We have expert stone masons that can build retaining walls of different kinds using materials such as:


Retaining wall blocks – These are called CMUs that are made of concrete; they are strong and durable and a very cost-effective solution for building retaining walls. Many people don't like the look of plain concrete walls, and we can clad the walls with stone or brick veneer and this adds to the aesthetics of the installation.
Concrete blocks – These interlocking units are large concrete blocks that are stackable and form a very sturdy structure. They give the landscape the kind of support it needs.
Natural Stone – There is a large variety of natural stones that you can choose from and these can be either dry stacked or built with mortar to create strong and resilient walls that can last for decades, with the right amount of maintenance.
Custom Designed Retaining Walls
We customize our work to match the look and feel of the landscape and use only the best materials & workmanship in all our projects. While we focus on the quality of the walls, we also ensure that we maintain very low retaining wall cost. You only have to tell us what your specific requirements are, and we can provide you the kind of solutions you need at a price that will fit in perfectly with your needs.

At times, retaining wall construction might be part and parcel of a larger landscape project, while at others; it might be a standalone project. We handle jobs of every scale and complexity, and ensure that we exceed customer expectations on all fronts.

For any more information, call San Diego Landscape Solutions Inc. at this number: 619-734-7364. You can also send us your project details via the free estimate form on our site or use this contact us form to send us your queries. We will revert within the shortest possible time.

We Provide Services to the Following Cities and Towns in CA: